You've decided you need to step up your game when it comes to video content and start producing amazing videos to wow your customers.
That's exciting, but remember not to let your excitement get in the way of proper planning and strategy.
Before a customer buys from you, they embark on a journey towards purchasing a service or product to solve their needs. 
This is called the customer's buying journey and it can be broken down into five stages. For each stage, you'll need to define your company's goals and craft videos that will help support them.
Let's have a look at the stages of the customer's buying journey and what kind of videos you need to create for each.

Awareness
During this stage, the idea is to make your potential customers aware of your company and offer. You need to find ways to get your content in front of them and let them know why they need you in their lives. They don't know you yet so it's important to make a good first impression. To be successful, you'll need to define your brand awareness goals and produce video content accordingly. Use your videos to show your potential customers how your product or service can solve their problems.
Example of awareness goals:
Increasing your website traffic by becoming a reference in your field and providing your target audience with free helpful resources. This means publishing high-quality blog posts weekly while partnering with leading influencers, other blogs, and magazines to help spread the word. The quantifiable objective is to increase your blog traffic by 20,000 visitors a month by the end of the year.
What types of videos should you use for the awareness stage?
Once you've defined your goals, you'll need to create video content aligned with your brand personality to help reach them. Make sure to design short videos with a hook and an original and engaging story. Keep your target audience broad. This is a great example of Tesco Mobile making customers aware of their offer in a concise and cheeky way.

Engagement
The engagement stage is all about hooking in the viewers that are the most likely to purchase from you and lead them to interact with you. This is a key step you need to nail because it will determine how committed to your marketing actions and offer your visitors and viewers are. Your content during the engagement stage should subtly convince them to consider your product or service as an option.
Examples of engagement goals:
Triple your monthly newsletter subscribers within three months and increase your social media posts' comments and likes by 30% by the end of the quarter. This will be achieved by running retargeting ad campaigns based on your awareness campaign results. 
What types of videos should you use for the engagement stage?
If you want to keep your potential customers engaged, you'll need to find a way to create value and spark curiosity. Producing video series around a theme is a great way to boost your engagement as it will keep the viewers coming back for more. You could for instance make a captivating video series like fine jewelry brand Mejuri. Their Instagram "inbox stories" series highlights an influencer and the story behind their favorite jewelry piece every week. 
You can also post useful tutorials teaching potential customers how to use your service or product or to educate them about a topic related to your niche. This will provide educational value, humanize your brand and help you better connect with the viewers.

Conversion
''64% of consumers make a purchase after watching branded social videos.'' – Wordstream
The conversion stage involves getting your viewers or website visitors to take concrete action. It could be purchasing your product or service or downloading one of your free resources. To support your goal during this stage, you'll need to include a clear and apparent call to action in your videos.
Examples of conversion goals:
Double the downloads of your how-to guide on your home page by the end of the month and increase your sales by 15% by the end of the year. This will be achieved by using videos in targeted ad campaigns across Instagram, Facebook, and YouTube.
What types of videos should you use for the conversion stage?
Video on demand, explainer videos, or webinars with clear calls to action are powerful tools to increase your sales or drive any other actions you want your prospective customers to take.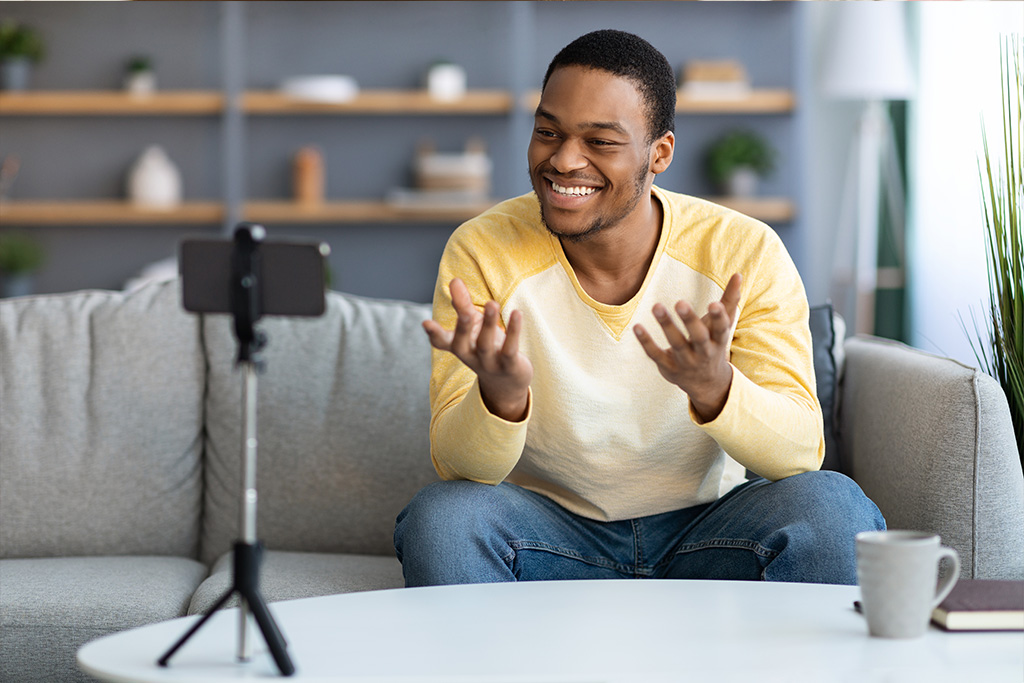 Advocacy
It's a fact, customers trust friends, family, or their favorite influencer's recommendations more than yours. Word-of-mouth is one of the most powerful tools in marketing as existing customers are a free (or low-cost) and effective source of new customers. This means that your videos should be driven by feedback from loyal customers and influencers in your industry. Referrals will encourage others to try your products or services.
Examples of advocacy goals:
Create a referral program and enroll 25% of existing customers within the next twelve months by offering exclusive offers to members. Achieve 15% more customer referrals with the new referral program. Contact 100 micro-influencers in your niche and increase your customer referrals by 10% by the end of the year. 
What type of videos should you use for the advocacy stage?
Customer and micro-influencer testimonials and unboxing videos are a great way to drive sales through online word-of-mouth.

Retention
This is the last stage of your customer buying journey and it shouldn't be overlooked. Your customer retention strategy will define whether your customers feel like coming back for more or not. Remember that it's cheaper to drive repeat purchases than new purchases. To help increase your retention rate, you need to make existing customers feel included in your marketing efforts. Plus, your videos should answer any questions they might have about their purchase and get them excited about what's next.
Examples of retention goals:
Increase customer feedback response rate by 20% by the end of the year by implementing an email marketing strategy including concise surveys. Develop one new feature within 6 months based on customers' feedback.
What type of videos should you use for the retention stage?
Retention videos must provide value and excitement. For instance, you can create a detailed video showing how to use your product and providing additional useful tips. You could then automatically send the video to each customer making a new purchase. You can also create exciting videos about upcoming features, products, or reward programs.

A small Investment Can Generate a Ton of Sales
Video marketing can seem complex and expensive. Yet, you should view it as an effective way to reach your target, guide them through their buying journey and move them to action. Keep the customer's buying journey stages in mind when creating your video strategy and you'll be on your way to turning your brand into a staple. The rewards will be well worth the investment in the long term. If you need help creating videos to support each stage of your customer's buying journey, get in touch with us. Video is what we do best and we love a great chat.
Don't hesitate to browse our blog section for useful tips on how to stage your commercial shoot or how to create online video ads.