Online video advertisements are perhaps the most effective way for today's business owners to market their brand. The numbers are there to support this hypothesis;
Human beings are inherently visual creatures. We are adept at learning new information through watching. It is effortless for people to watch a brief online video in order to help them decide if they are interested in what a specific company has to offer. 
The entire purpose of advertisement is to convey the value that your brand possesses to potential customers and convert them into paying customers. It only makes sense for you, the business owner, to communicate your company's value to your potential customer base in a way that they will remember. You may say, "that all sounds great, but I don't know the first thing about how to actually make online video ads". It may seem like a daunting and confusing task to create effective online video ads, especially to the more classically conventional business owner. Put your worries and skepticisms to rest; we are here to provide you with a simple step by step guide for you to create online video ads that will help your business grow. 
Before you begin producing your online video ads, you have to first plan for the type of video you are going to create. Once again, the purpose of advertisement is to convey the value that your brand possesses to potential customers that convinces them to buy from you. How can you use a video to do this? Are you in the fitness industry and want to show your potential customers how to set up and use your state-of-the-art home gym equipment? In that case, you could opt to create an explainer video. There are countless explainer video templates that allow for you to clearly explain exactly how to perform a process that is not self-evident in a visually pleasing manner. Do you sell memory foam pillows? In that case, you may want to create a customer testimonial video.
The type of product that you are selling in this scenario could be advertised best by allowing for actual users of your pillows to speak freely about how their experience has been sleeping with your pillows each night. Sometimes, your video can include nothing more than a whiteboard and a marker for you to draw with. This extraordinarily simple type of ad could involve you explaining what makes your company work by drawing a few pictures and graphs that make it all very easy to understand. Are you looking to create an animated video ad? You'll want to utilize a reputable video animation program such as Promo.
These are just a few examples of the sort of online video ads that businesses are producing everyday. There are infinite directions in which you could take your video production. You could even invent your own type of video. One of the key elements to creating effective online video ads begins with you consulting the drawing board and doing a little pre-production planning. You must be able to visualize the ad in your mind before you can bring it to life. 
Now that you have drawn up the plans for your online video ad, you can now begin production on the actual video. You will probably ask yourself, "what exactly do I need to begin shooting this brilliant ad"? This question can have a number of answers, mostly dependent on your budget and the size of a production you are looking to shoot. It is a misconception to think that you need the resources and equipment of a major Hollywood studio in order to make a good video. Many are surprised to learn what is possible in video production today.
You've captured the initial footage needed for your video. The next step is to take the raw footage and edit it into a clean and concise final product. This process can be complex, and again you may want to educate yourself by taking a video editing class prior to taking on this task. To begin editing, you'll need a computer with a video editing software such as Adobe Premiere Pro. This program allows you to upload the captured footage and alter it in a number of ways. The final product has to flow and a good video editing software allows you to make it so. 
The video is complete and ready to go online. Only question is, where will it go? There are countless places for you to place your ad online. If you have a company website, you should undoubtedly feature your video on the site. To pair with your company website, social media is the best way for your video to reach maximum exposure. There are billions of people using social media every single day with some of the leading forums being Facebook, Instagram, and Youtube. Facebook alone has 8 billion video views per day (TechCrunch). The social nature of these sites creates an incredible opportunity for you to grow your brand. People love to share things with their friends. If somebody comes across an ad for a new product that they are interested in, they will oftentimes naturally share the link with their friends. This is what makes social media ads so powerful. You gain momentum by the people sharing your video and doing your marketing for you!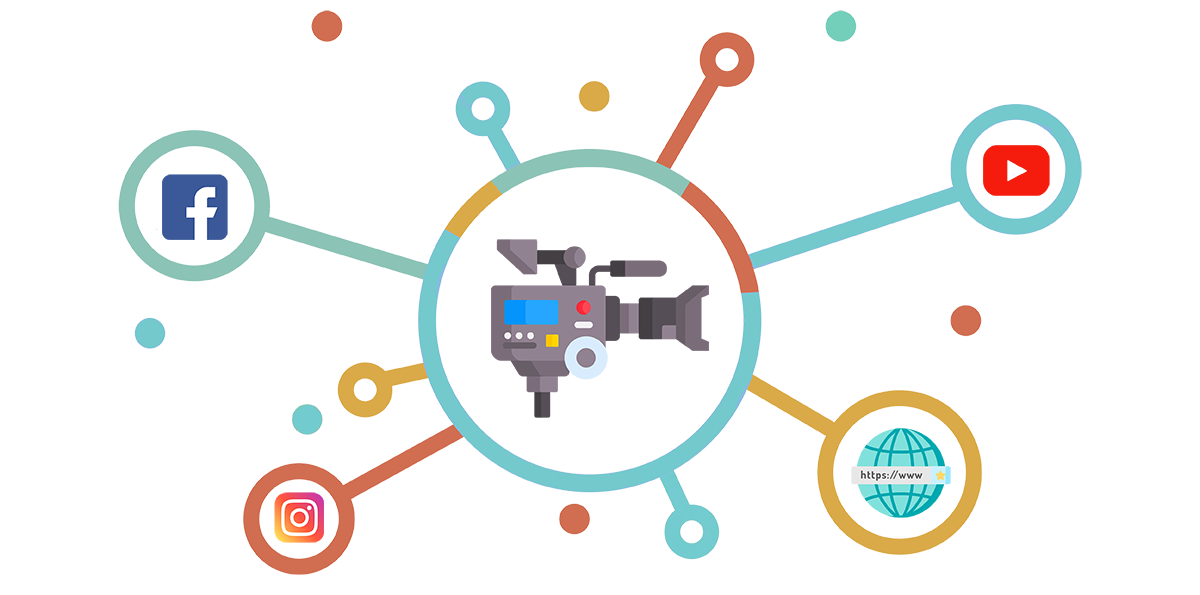 Congratulations! Your video is now online. Does this mean the work on your online video ad is complete? Almost, but not entirely. You'll need to track the performance of your ads. It's important to calculate the number of times your video is viewed, on which sites people are viewing your video, the number of times people follow a link from the video to your website, and how many times this process directly leads to sales. The statistics that you gather provide insight into what is working and what isn't. This can all be done through a website such as Google Analytics.
I hope that this guide has clarified any of the questions you may have had about how to create online video advertisements. This is the direction that the marketing world is rapidly moving in. By 2022, online videos will make up more than 82% of all consumer internet traffic, 15 times higher than it was in 2017 (Cisco). The statistics behind online video marketing cannot be ignored. All business owners must take advantage of the power of this industry. Utilize this guide as a reference while you embark on your online video ad campaign.